Ironbark Gully Heritage Association Inc.
By Ken Webb - 10th February, 2006
Aim
To manage the protection and restoration of the property at Ironbark Gully, Tarnagulla, built by William and Celia Grey in the early 1860s.


Contact
For more information email the Public Officer, Ken Webb.


How can you help?
The Association is also looking for persons (descendants or otherwise) interested in becoming members of the Assocication. As well as restoring the cottage we intend to try and recreate the outbuildings (toilet, dairy, blacksmith shed and large dog kennel, which was made of mud/timber and roofed with kerosene tins, also the dams fences garden and orchard. The land was granted as a Miners right and has remained in the Grey family until the transferring of the lease to the "Ironbark Gully Heritage Association Inc."
We are also searching for any information or photo's etc of Ironbark and Nuggety Gullies including any information on other residents, buildings etc.


Background
The following are a few photos and a history of the cottage and families.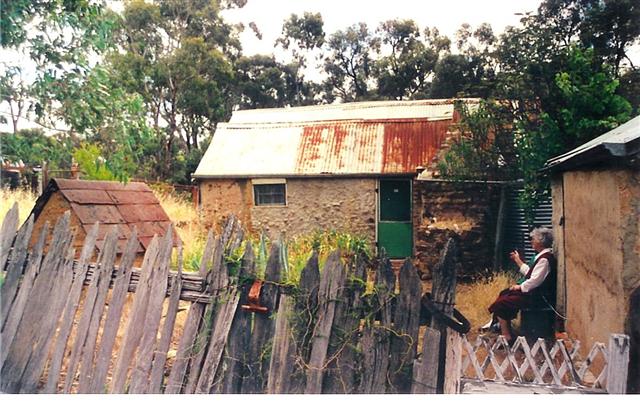 The rear of the house (taken 1962 and has deteriorated since).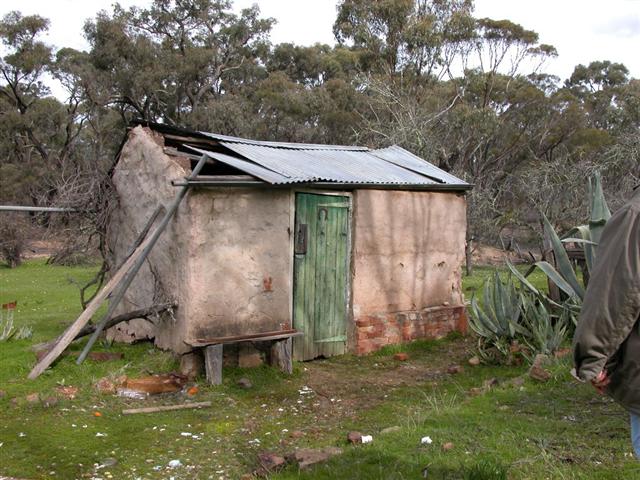 The dairy (shed)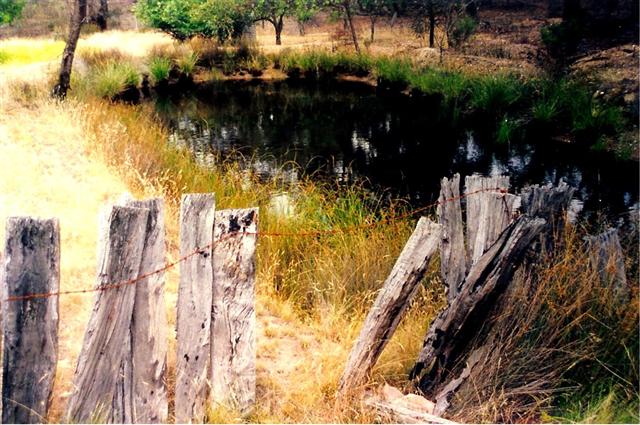 One of the dams
The couple who built the old cottage, used wattle and daub methods in the rear four rooms which we believe were built first. The front two rooms were added later using more conventional methods; a rough timber framework packed with mud and stones, lined with newspaper. These two rooms also included the front verandah were butted up against the front walls of the earlier rear and four smaller rooms.

William Grey of Hawkhurst, Kent born 1831 married Celia Eastwood of Ticehurst sussex at the Trinity church, parish of St Mary, Newington in the county of Surrey on the 3rd May 1858. They travelled to Australia in January 1859 aboard the ship "Great Britain" with the intention of making a fortune from gold and then heading back to England. This as many others found was not as easy they believed, and William took up taxidermy, he either had some former training or just had a knack for it as he was very good at this profession, after his death at Tarnagulla in 1901 a glass case full of stuffed birds was acquired by the Tarnagulla school and is still on display above the blackboard. At least one other larger glass cabinet full of local birds is still in existence.

William and Celia settled at Ironbark Gully, Tarnagulla, at first living in a tent on the hill overlooking the existing house where they raised their 5 children;
- Flora Ellen born 1859
- William Arthur born 23/9/1861
- Clara Alice born 1863
- Walter Selwyn born 23/8/1868
- Evelyn Mildred born 1872

Flora married William Purcell Whittle and had two sons;
- Henry Purcell Whittle born 1885 Tarnagulla
- William Walter Whittle born 1886 Tarnagulla

William Arthur married Sarah Henrietta Rands born 18/12/1859 at Jones Creek they had eight children born between 1884 and 1893;
- Arthur Henry Grey
- Dulcie Henrietta Grey
- Lydia Evelyn (Eva) Grey - (Ken's great grandmother married Arthur Goltz lived Crystal Hill, Tarnagulla)
- Victor Albert Grey
- William Bertram Grey
- Horace Leslie Grey
- Devonshire Dickson Grey
- Roland Lewis Grey

William later married Alice Gannaway and had two more children;
- Dorothy Ethel Grey born 1899
- Winifred (Winnie) Grey born 1904

Clara Alice married Louis Faux Walter Selwyn married Francis Jane Strahan born Tarnagulla 1872, they had eight children born between 1893 and abt 1912;
- Walter Selwyn Grey
- William Simon Grey
- Florence Francis Grey
- Sylvia Grey
- Horace Edward Grey
- Jack Eastwood Grey
- Annie Grey Vera Grey

Evelyn Mildred married Henry Bofill born Waanyarra 1865, they had 3 children;
- Catherine Mary Bofill born 1896
- Estella Celia born 1900
- Harry Eric born abt 1907 .